Product Description
The Red Alpha Stage 1 Performance Package includes the Red Alpha Heat Exchanger, Bluetooth EcuTek kit, and the Red Alpha Stage 1 Tune. Unlock the potential power INFINITI held back. By installing the Red Alpha Stage 1 Power Pack on your VR30 equipped Q50 & Q60 you will experience an elevated power output of around 415 HP and 475 FT LB TQ! Be the Q50 or Q60 to beat, install the Red Alpha Stage 1 Performance Package today.
RA Stage 1 Includes:
-Red Alpha Heat Exchanger
-Ecutek Bluetooth kit
-Red Alpha Tune
-Red Alpha Rear Badge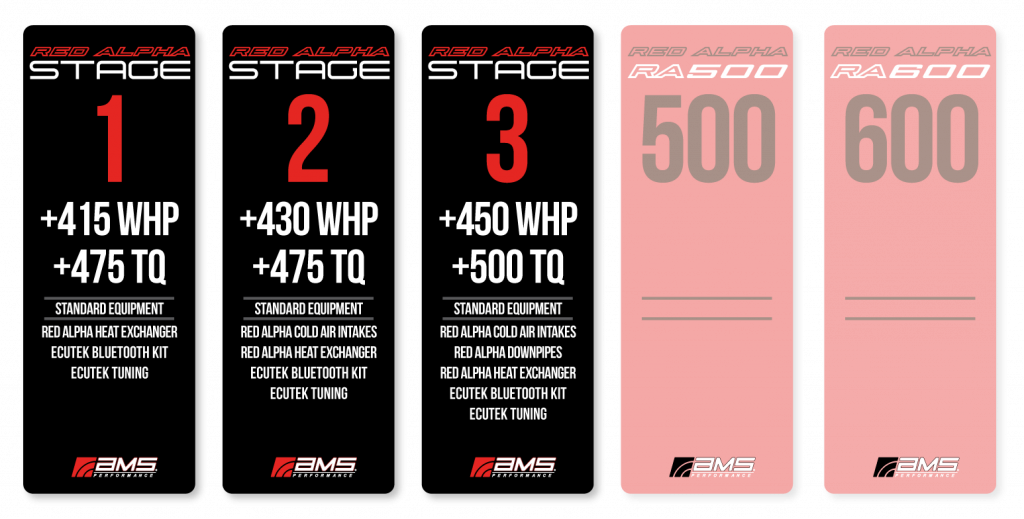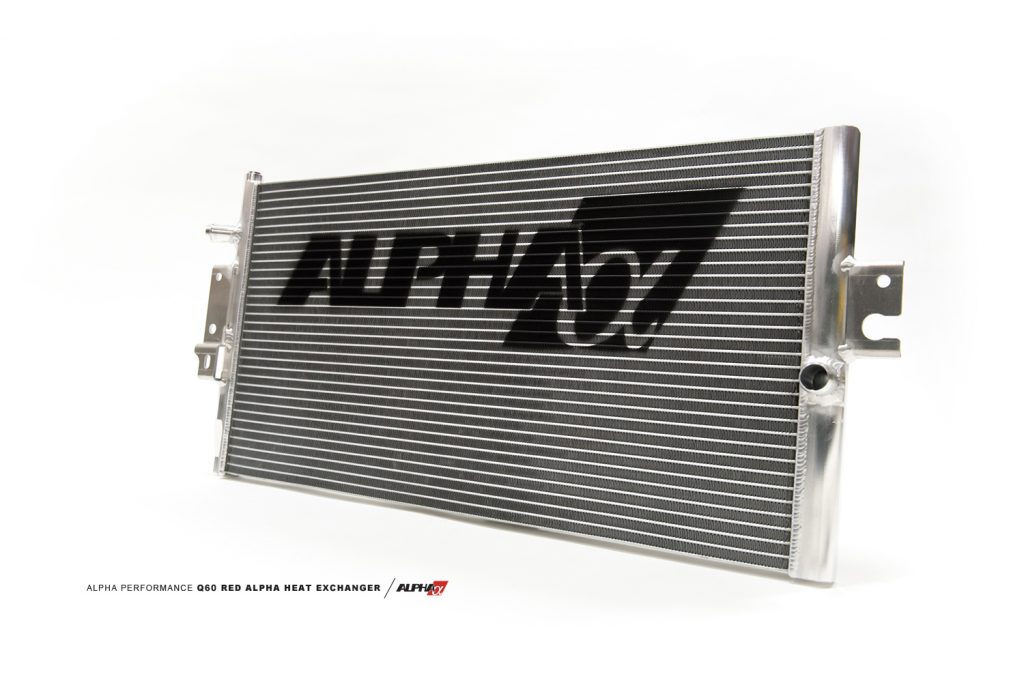 Red Alpha Heat Exchanger
Whether you live in a hot climate region, enjoy drag racing, or long high speed pulls on airstrips the Q60 and Q50 Red Alpha Heat Exchanger will help keep your intake temps lower and maintain your INFINITI's maximum power output no matter the conditions.
Your VR30 twin turbocharged engine does not use the typical air to air front mount intercooler (FMIC) you may be used to. Like many modern turbocharged vehicles the INFINITI Q60+Q50 3.0L use coolant to cool the intake air charge through an air to water heat exchanger. While this method may be sufficient for a stock vehicle under ideal conditions, it can quickly become heat soaked robbing horsepower.
Through extensive testing, we found the factory INFINITI heat exchanger restricts coolant flow. This restriction slows the flow of coolant though the air to water intercooler minimizing the cooling of your intake air.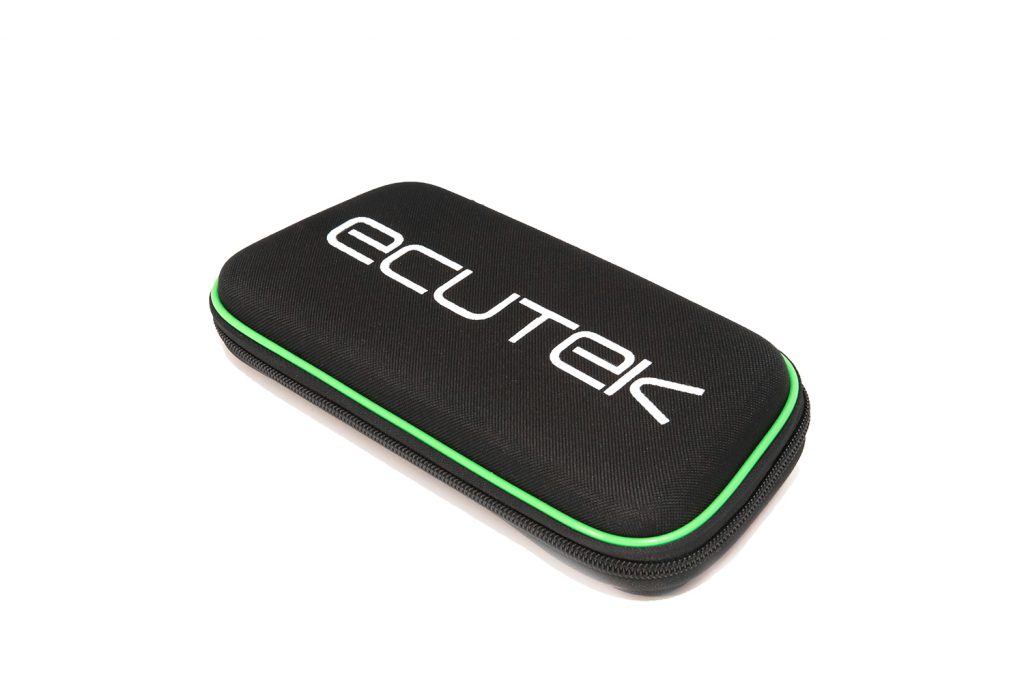 RA Ecutek Tuning
With its ground breaking design, the INFINITI Q50 and Q60's VR30 engine provides excellent, entry level, luxury class power. Alpha Performance measured the stock horsepower output of our RS 400 at a respectable 366 WHP and 350 ft/lbs of torque. AMS knows OEM's are handcuffed by power robbing factors they have no control over. That is where we come in. AMS Performance found a way to tap into the hidden horsepower and torque of your INFINITI VR30 Q50 and Q60!
Our Red Alpha calibration file takes full advantage of your INFINITI VR30's untapped potential. By precisely adjusting camshaft timing, boost output, and air/fuel ratios, your 3.0L twin turbo equipped INFINITI will produce over 415 wheel horsepower and a pavement shredding 475+ ft/lbs of torque with just the Red Alpha Tune! Be the INFINITI VR30DDTT owner to beat. Order your RA Stage 1 Performance Package today!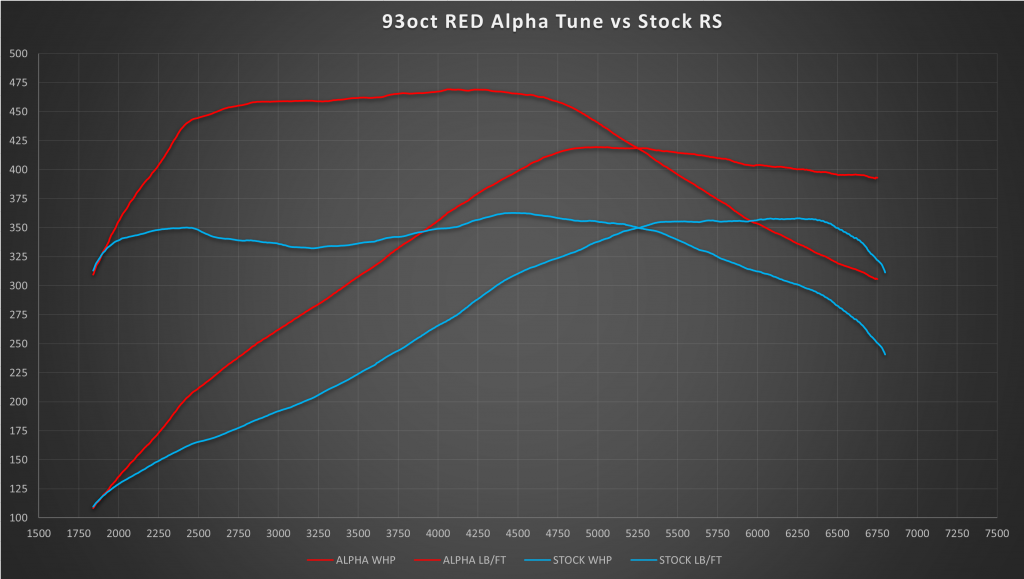 Red Alpha Badge
The Red Alpha badge is a symbol that you have chosen the most power producing most reliable performance components for your Q50 or Q60. Join the AMS team and proudly display the "Red Alpha" badge on your Stage 1 Q50 or Q60 today!